Soon I will be getting back to incorporating some party and decorating tips in to my blog, but I'm not going to lie - I'm kind of on a
new recipe kick
and it's keeping me on track. I was in a bit of a rut at the end of 2011 just making our same ol
always delicious
recipes week after week. But now I've been pretty consistent with throwing together a new meal each day, so of course I have to share it with all of you.
Today I want to share with you my yummy breakfast omelet.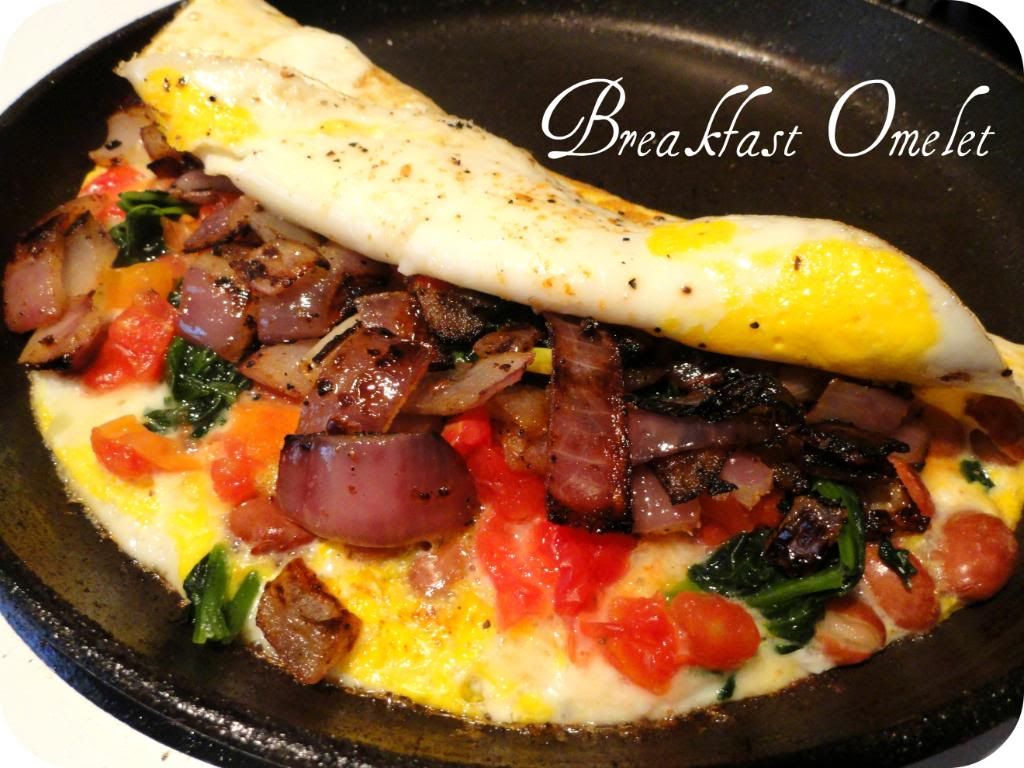 But before we get in to the recipe, did you know omelet was spelled that way? or is it omelette? To be completely honest, I always spelled it omlet (the way I say it), until today, when I did a bit of research on the omelet. hah! Anyways, that's just me being crazy,
lets get back to the breakfast omelet.
There are several variations of omelets, and really, each country has its own version, for example the Italian Frittata. What I love about omelets, and eggs in general, is the ability to make so many different and delicious dishes, all starting out with the same concept or ingredient.
Here's something crazy for you - in 1994, Japan used 160,000 eggs making the worlds largest omelet at the time, quickly being beaten (
no pun intended)
by Canada in 2002. Crazy right?
Alright lets get to the recipe.
Breakfast Omelet
Ingredients:
2 egg whites
1 whole egg
1/2 cup chopped red onions
1/2 cup pinto beans
1/4 cup spinach (I used frozen spinach)
1/3 cup rotel (canned tomatoes with cilantro and lime)
Garlic, pepper, cumin to taste
In a small skillet, saute chopped onions with a bit of olive oil and seasonings. When onions become limp they are ready.
Spray a medium skillet with cooking spray. Crack eggs and stir with your spatula, making sure your one egg yolk has cracked and is mixed in with the egg whites. Turn heat to medium. While eggs are still wet, add additional ingredients; cooked onions, beans, spinach, rotel, to one half of the eggs in your pan.
(Make sure you add your ingredients when the eggs are still wet. If you wait too long they will have nothing to "stick" too and end up flying everywhere when you try to remove your omelet from the pan)
Keep the omelet "open" until the eggs begin to dry out. You can even shake your pan a bit to see if there are any wet spots. Once the omelet is completely cooked, using your spatula, fold the egg half with no ingredients over the
loaded
side. Push down on your omelet using the back of your spatula, squishing the omelet closed. Lift your yummy, delicious, absolutely veggie filled breakfast omelet on to one of your favorite plates and sink your teeth into something that you'll never believe falls into the
"healthy category".
Enjoy