BACK BY POPULAR DEMAND :-)
Thanks everyone who's been requesting this one
Original Post: December 1, 2011
You've all probably heard a handful of people say comments like
"Remember the Reason for the Season"
or
"Keep Christ in Christmas"
or something along these lines.
As a mother now of two little ones I am raised with the responsibility of teaching my children the true beauty of this season and the amazing gift and sacrifice our Father in heaven has done for us. He gave his Son, his very own, so that we all could be saved. I'm sure for many of you, this doesn't come into true retrospect until you have children of your own, as it did for me.
Well, as you've been following my blog, you know that although my main purpose is to focus on food and DIY, I just can't help myself but let you in on my world and what goes on in this house.
I've been dying to have an Advent Calendar for years now, but whenever I muster up the excitement to go to the store to purchase one, I always leave empty handed because....
seriously
.... this girl ain't about to spend $30 on a little box Advent Calendar that I look at and say, "I could make that", when in reality I still
haven't made one!
But still...I COULD!
Any-who, my daughter is about to turn two and is really just at the beginning of the excitement for Christmas. I want to make sure she is filled with the joy of this season; Christmas music, presents, hot cocoa-
even if we do have to crank up the air conditioner here in AZ just to put on comfy pj's and bundle up with a cup of hot cocoa!
But at the very same time, I want to teach her the reasons we gift give and praise the Lord for his blessings upon us.
I decided, what better way to share the story of Christmas but through our Advent Calendar...
that yes, I made
, and am looking forward to making it year after year.
As a child I remember getting little chocolates each day we opened the door to our Advent Calendar. There really wasn't any meaning in the calendar, other than the fact that I got a piece of chocolate and we were one day closer to Christmas. But really I want to make it our tradition to have the story of the birth of Jesus Christ each day our children open up their little envelope...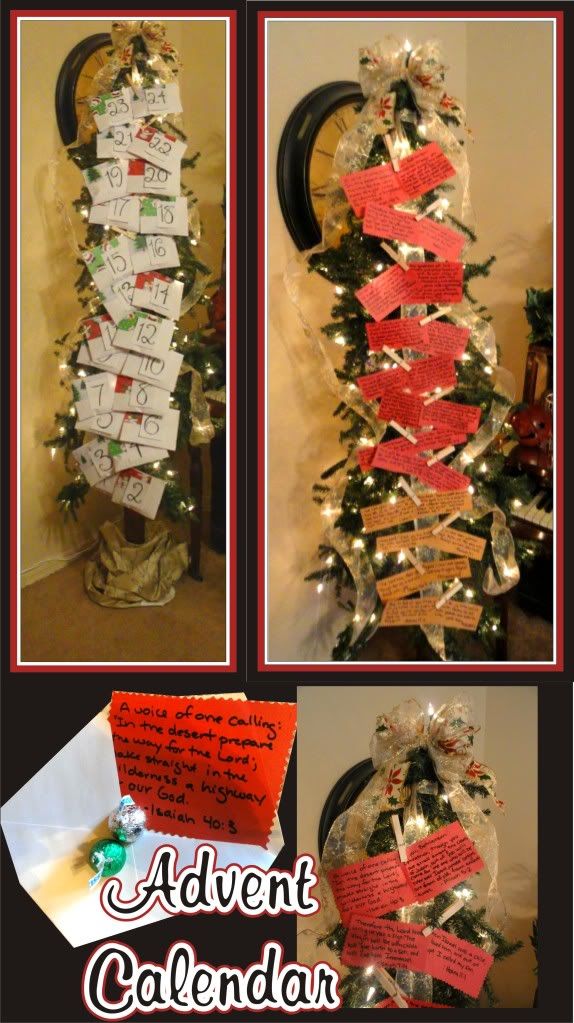 In each envelope I included one to two verses from the bible along with a little piece of chocolate to enjoy. I decided to secretly hang all of the verses on my little tree to take a photo for everyone to see, before placing them in their envelopes sealed with a kiss! I absolutely love the way they turned out and can't wait for my husband to come home tonight for him and the kids to open Day 1's envelope!
Have you made your own Advent Calendar? If so post some pictures on my
facebook
. I can't wait to see them.
Below I've listed the verses that are included in each envelope. Enjoy!
Dec 1: Therefore the Lord himself will give you a sign: The virgin will be with child and will give birth to a son, and will call him Immanuel - Isaiah 7:14
Dec 2: But you, Bethlehem Ephrathah, though you are small among the clans of Judah, out of you will come for me one who will be ruler over Israel, whose origins are from the old, from ancient times. - Micah 5:2
Dec 3: A voice of one calling: "In the desert prepare the way for the Lord; make straight in the wilderness a highway for our God" - Isaiah 40:3
Dec 4: When Israel was a child, I loved him, and out of Egypt I called my son - Hosea 11:1
Dec 5: This is how the birth of Jesus Christ came about: His mother Mary was pledged to be married to Joseph, but before they came together, she was found to be with child through the Holy Spirit - Matthew 1:18
Dec 6: But after he had considered this, an angel of the Lord appeared to him in a dream and said, "Joseph son of David, do not be afraid to take Mary home as your wife, because what is conceived in her is from the Holy Spirit" - Matthew 1:20
Dec 7: She will give birth to a son, and you are to give him the name Jesus, because he will save his people from their sins. - Matthew 1:21
Dec 8: All this took place to fulfill what the Lord had said through the prophet: "The virgin will be with child and will give birth to a son and they will call him Immanuel" - which means "God with us". - Matthew 1:22-23
Dec 9: When Joseph woke up, he did what the angel of the Lord had commanded him and took Mary home as his wife. But he had no union with her until she gave birth to a son. And he gave him the name Jesus. - Matthew 1: 24-25
Dec 10: And there were shepherds living out in the fields nearby, keeping watch over their flocks at night. An angel of the Lord appeared to them and the glory of the Lord shone around them and they were terrified. - Luke 2:8-9
Dec 11: But the angel said to them, "Do not be afraid. I bring you good news of great joy that will be for all the people." - Luke 2:10
Dec 12: Today in the town of David a Savior has been born to you; he is Christ the Lord. - Luke 2:11
Dec 13: This will be a sign to you: You will find a baby wrapped in cloths and lying in a manger. - Luke 2:12
Dec 14: Suddenly a great company of the heavenly host appeared with the angel, praising God and saying, "Glory to God in the highest, and on earth peace to men on whom his favor rests." - Luke 2:13-14
For Dec 15-Dec 24, I continued with verses praising God's sweet love for us
Dec15: Since we have been justified through faith, we have peace with God through our Lord Jesus Christ. - Romans 5:1
Dec 16: God did not send his Son into the world to condemn the world, but to save the world through him. John 3:17
Dec 17: Jesus said, "I tell you the truth, whoever hears my word and believes him who sent me has eternal life and will not be condemned." - John 5:24
Dec 18: Be joyful in hope, patient in affliction, faithful in prayer - Romans 12:12
Dec 19: May the God of hope fill you with all joy and peace as you trust in him, so that you may overflow with hope by the power of the Holy Spirit - Romans 15:13
Dec 20: The Lord has done great things for us, and we are filled with joy. - Psalm 126:3
Dec 21: Rejoice in the Lord always. I will say it again: Rejoice! - Philippians 4:4
Dec 22: May all who seek you rejoice and be glad in you; may those who love your salvation always say, "Let God be exalted." - Psalm 70:4
Dec 23: Rejoice in the Lord and be glad, you righteous; sing, all you who are upright in heart! - Psalm 32: 11
Dec 24: Shout for joy to the Lord, all the earth Worship the Lord with gladness, come before him with joyful songs. - Psalm 100: 1-2