In light of the beautiful month of October, I would like to dedicate this months posts to all highlight a little bit of fall.
You may be asking yourself, "but why was yesterday's post about measuring flour?" And I have the answer -- because I didn't realize it was October already! Remember the sleep deprivation?
So from here on out we'll be focusing on OCTOBER!!
I absolutely love the month of October. First off, it hosts one of my very favorite holidays, Halloween. But mostly because I get to start transforming the house to feel like fall. I say
feel
because really, here in Arizona we don't necessarily get the changing of the seasons....we get BLAZING HOT YOU THINK YOUR SKIN IS GOING TO MELT OFF....and then we get the most beautiful weather you can imagine. Which this morning, as I type today's post, I am enjoying the "beautiful" part. Our french doors are open, windows all cracked, letting in the cool breeze of
fall
.
I wanted to take a minute to talk about Three Little Pumpkins. Our home is actually covered in decorations from floor to ceiling, that i have been collecting since I was little. (
I seriously had a shed that I purchased when I was about 16 to store all of my *future* home decorations...I know my dad LOVED that one).
Anyways, since I do my best to focus on cost effectiveness; shopping the discount stores, decorating with family heirlooms and always walking to the sale section, I wanted to show you 10 different ways you could arrange a centerpiece using just Three Little Pumpkins and some common pieces you may have around your home. As you will see, I used the same three pumpkins, the same strip of material, and same table for each of the pictures. What's so great about these ideas is realistically, you could change up your decorations all throughout the month (and even into the month of November) for no extra spending. Change it up and your friends will notice it each time they come to your home or even just rearrange for yourself. It's so fun and will keep you smiling all day long with just a few bucks from the grocery store.
#1
Using a green goblet that I have in my cupboard, I flipped it over and placed one pumpkin on the base of the cup. Then positioned the other two against the cup.
#2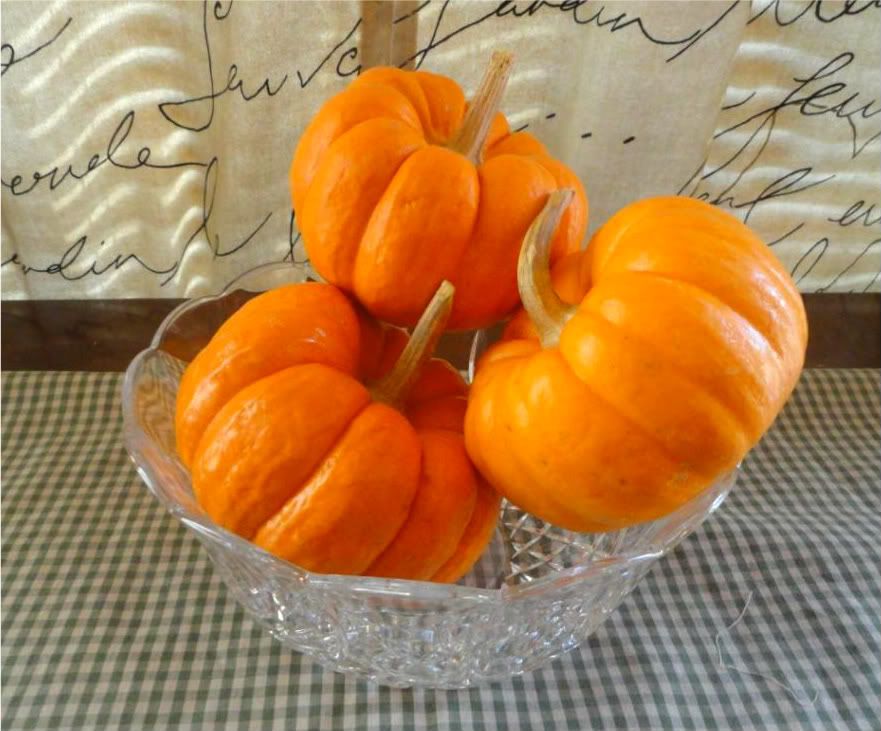 Using one of my very favorite glass bowls, I displayed the pumpkins bunched together. If you wanted to spend a few extra bucks, pick up some flowers and position them throughout the display. (That or "shop" your home, I'm sure you have some extra foliage that will make it look like you brought the outside, in)
#3
If you take two glass bowls you can arrange your pumpkins in a number of ways, just have fun with it!
#4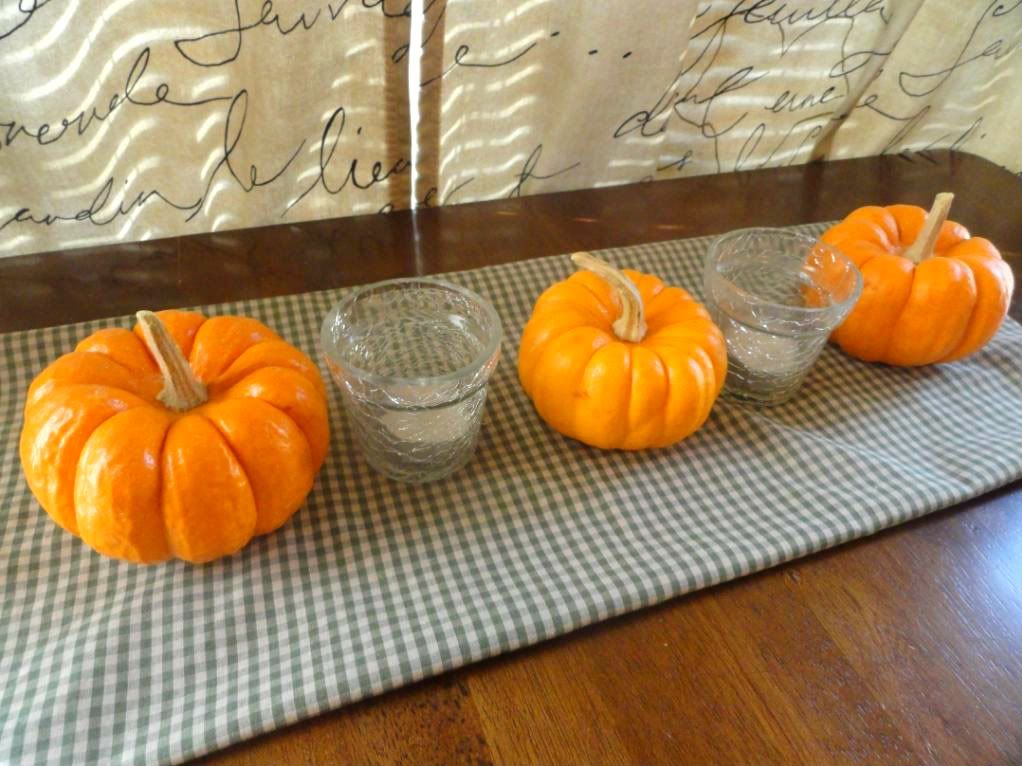 I absolutely love candles, especially right now with the glow of all of my autumn decor. Place a few votive candles along with your pumpkins to make a long centerpiece down a table, over a mantle or in your entry way.
#5
By taking a few votive holders I was able to make a three piece centerpiece that I have fallen in love with! These cracked glass votives are at the top of my favorites list and can be found at pretty much any local craft store.
#6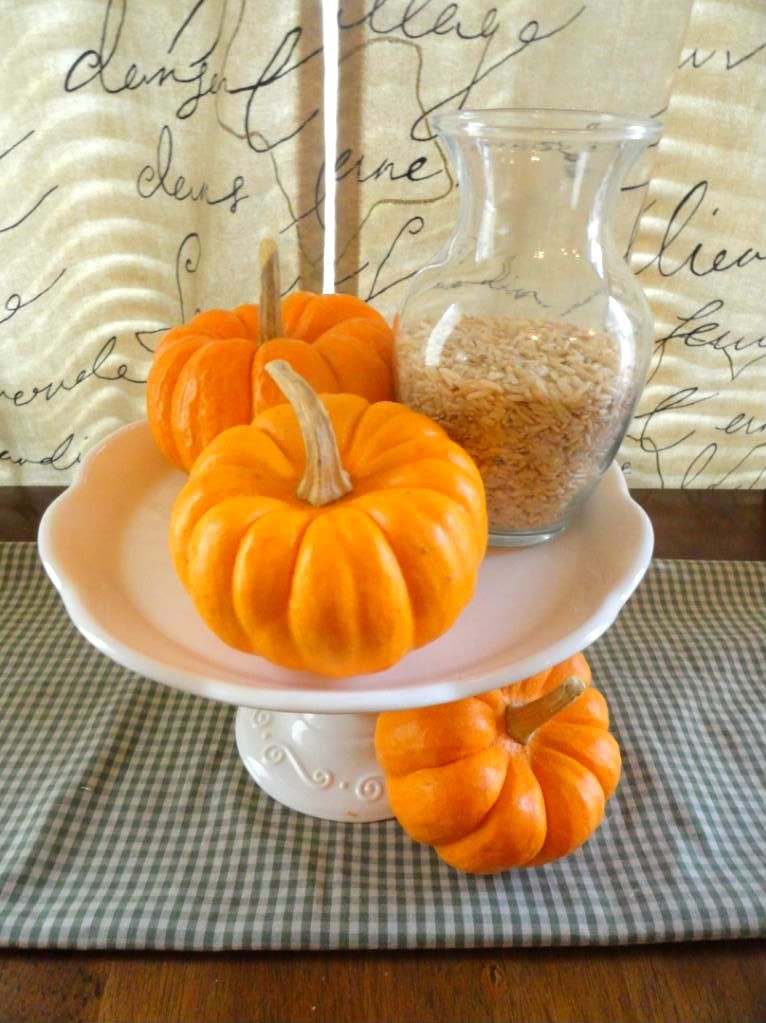 Pedestals are also some of the favorite pieces that I own. I then paired it with a rice filled vase and voila! Beautiful centerpiece once again.
#7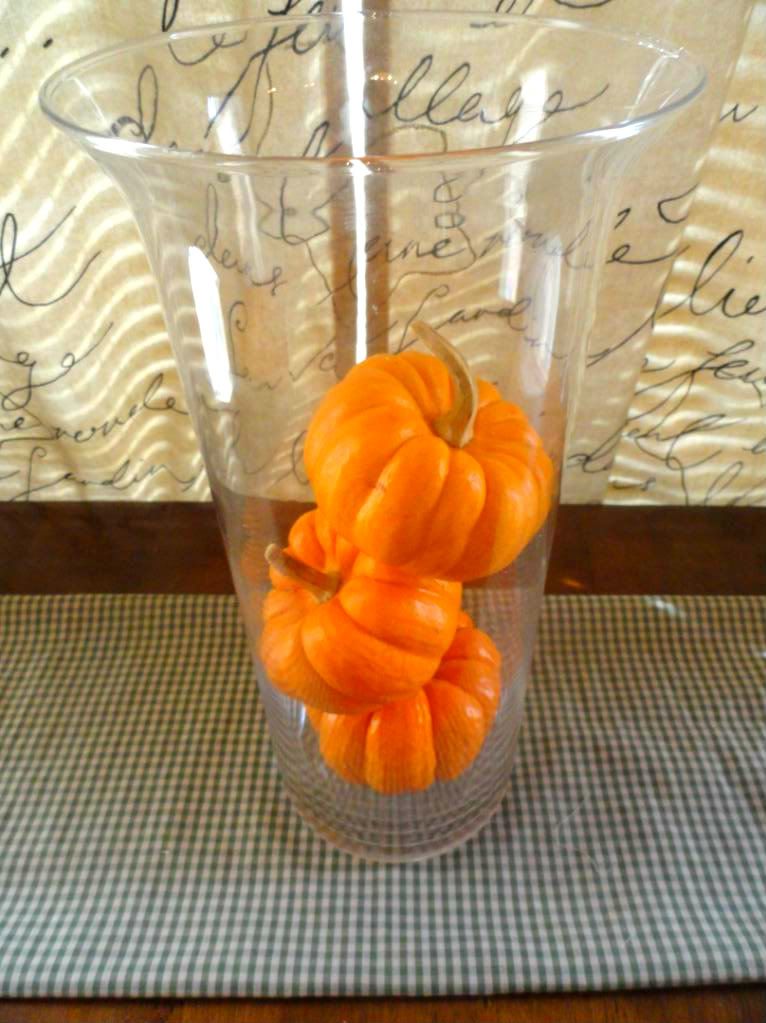 I'm sure you've all seen hurricanes filled with pumpkins, squash or any other holiday decor. I think this would be so cute paired with little white pumpkins as well.
But remember, we're sticking with the Three Little Pumpkins!
#8
Decorating with dried beans, noodles and rice have become a new obsession of mine and I think they compliment the fall decor so nicely. Search your pantry for your favorite noodles and some rice and you'll be adding those little accents that everyone will be talking about.
#9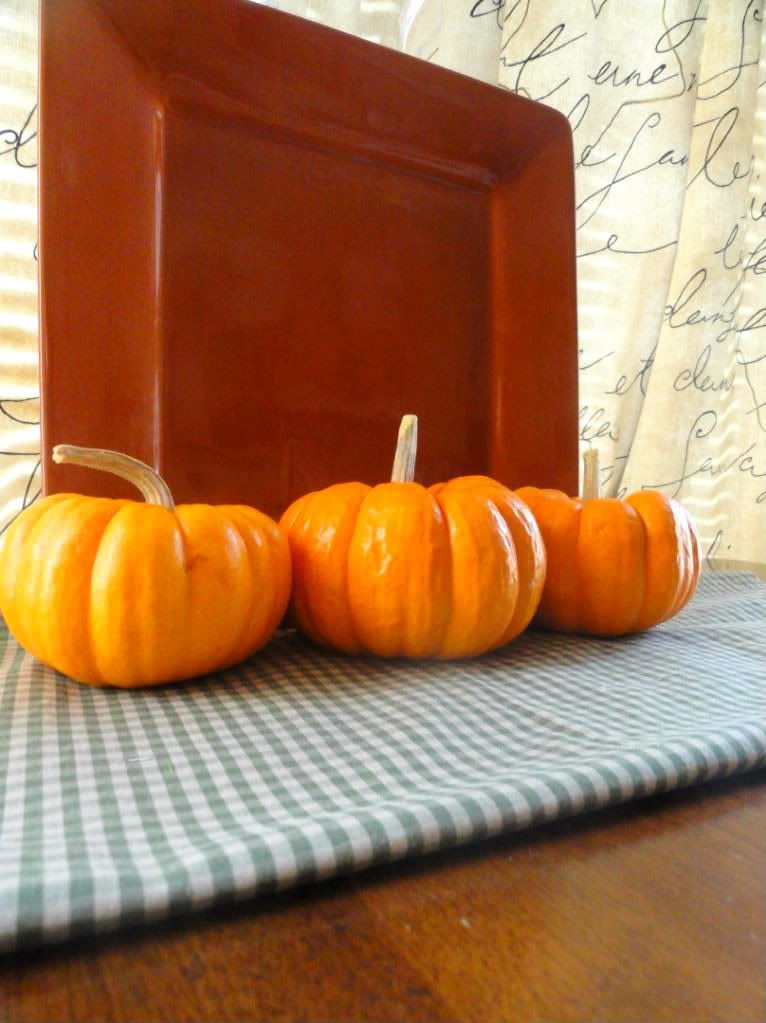 If you have a small easel, decorating with plates is a great way to spruce up your kitchen table.
#10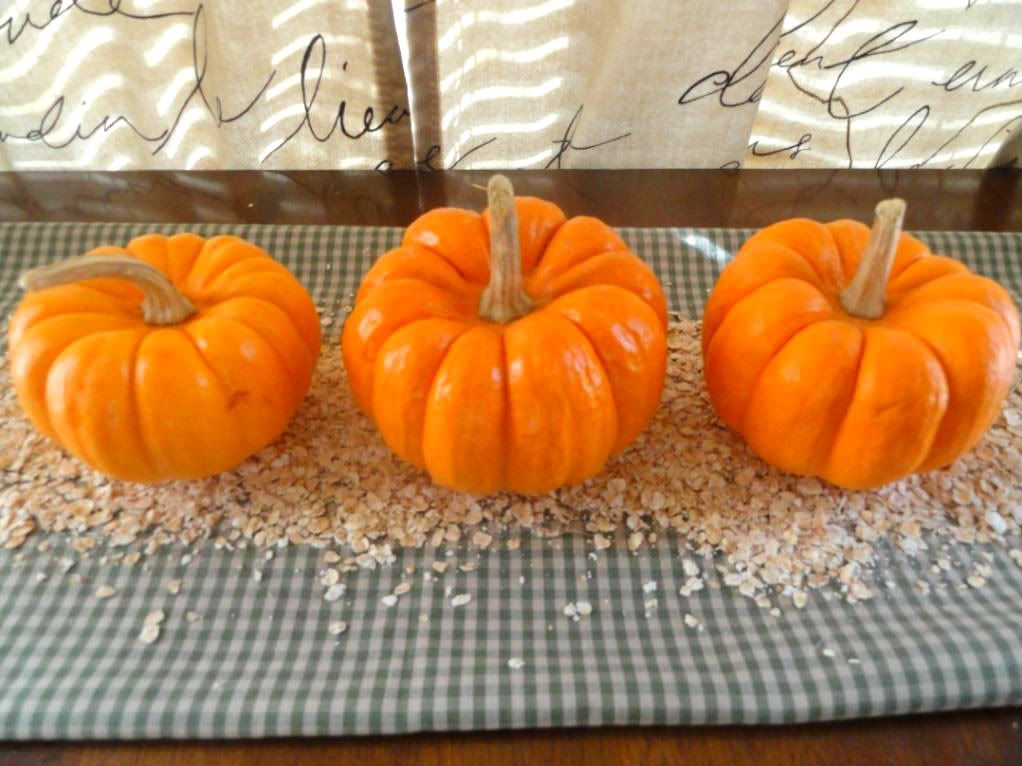 And last but not least: Decorating with OATMEAL! I love love love it! I'm thinking these might make it to the Thanksgiving table next month!
I hope I was able to give you a little inspiration for fall. Remember, it's ok to take some decorations down (pictures, figurines, etc) and put them in your closet for a few months. De-clutter and then Redecorate!
Have fun!