In lieu of Labor Day coming up I wanted to give you another fun way to dress up a dish that you may want to serve at your summertime bbq or pool party.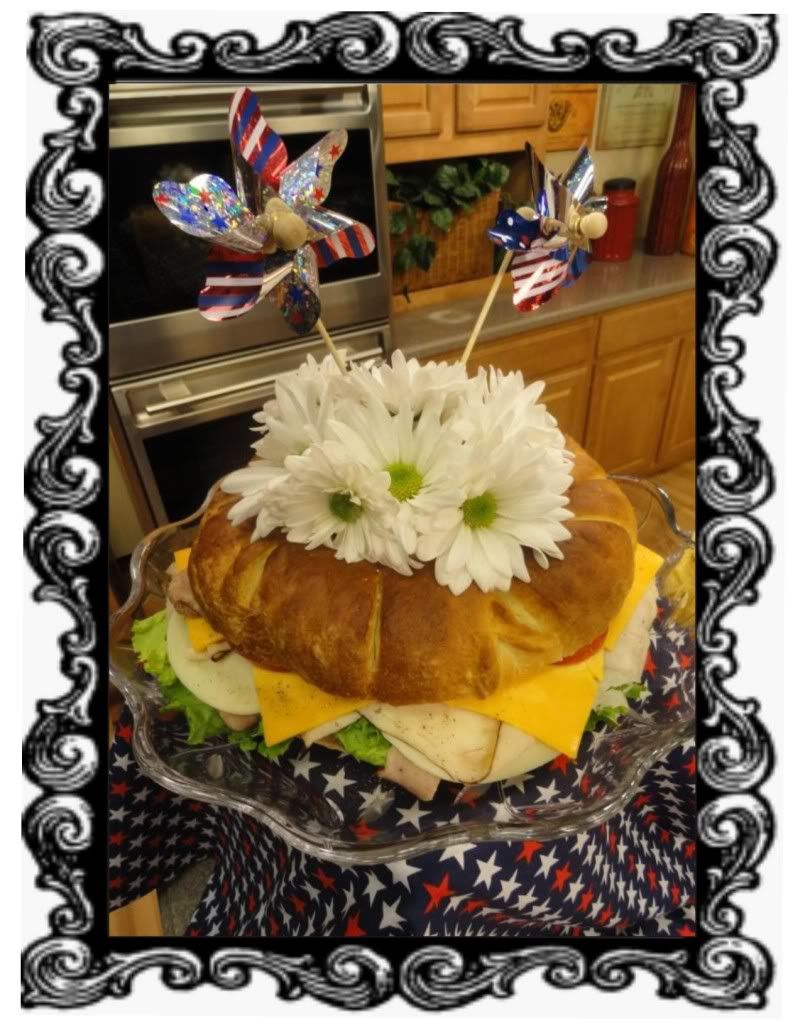 My recipe for
Party Sandwiches
makes for the perfect lunch time treat for everyone! And by serving it round like I have displayed up above, they really add to making your lunch look that more appetizing. But, first, since this is Wahoo Wednesday, where I give you tips on decorating and
sprucing
up your meals, lets focus on that for a minute.
Remember the scene from
My Big Fat Greek Wedding
?
Maria: What is it?
Harriet Miller: Its a bundt.
Maria: A bun?
Harriet: A bundT.
Maria: A Bondt?
Harriet: BUNDT BUUNDT!!
Maria: I know, its a cake-y!….(to friend) there's a hole in this cake.
And then she follows up by putting a plant in it? That's totally me! Whenever I make my favorite Red Velvet Cake or a Pound Cake, or even my Party Sandwiches, I'm finding myself putting something in the "hole of the cake"
Well if you find yourself like me or like the wonderful Greek women of My Big Fat Greek Wedding, then this post is for you.
Pick up either a few small pieces of green floral foam, or what I used was a small section of a left over wrapping paper roll (or a toilet paper roll would work too!) I wrapped it in aluminum foil so it doesn't touch the food and then add a few fresh cut flowers! For this sandwich I also added a few cute patriot windmills to the top too! Really the possibilities are endless when it comes to decorating the inside of circle meals :)
Have Fun...
OH yes, and on to the Party Sandwich. You can use two
Pillsbury French Loaves
and prior to baking in the oven, squeeze the ends together to form a circle. Bake as directed and then dress with your favorite meats, cheeses and sandwich toppings. (Make sure to leave any spreads off to the side, so your guests can add them as they please)
This same concept would also be cute for Valentines Day shaped into a heart.....
Enjoy!