For the past week or so my husband has been commenting about how much he and a co-worker of his enjoys spice cake. In fact, a week ago Friday, he suggested I make Spice Cake flavored "Cake Balls." For those of you that don't know about the cake ball trend, it is simply baked cake, mixed with frosting, rolled into a ball and dipped in chocolate. (yum).
He says, "Oooo, spice cake and
white frosting
, so delicious."
"White frosting sweetie? Don't you mean a cream cheese frosting?"
"No - white, that's the only way to have it."
"No, I'm pretty sure you are thinking
CREAM CHEESE"
(And yes, this is a typical evening conversation in our home)
I told him to go talk to his co-worker about which frosting and that I was certainly positive that spice cake would have a cream cheese frosting.
(all the while being in disbelief that this was even a discussion. I thought it was something we agreed on)
The following day, he comes back and responds, "Yes, you were right, as always, it's cream cheese" (
ok, so maybe not those exact words, but I was definitely right).
I decided that I really did not want to bake a cake from scratch to turn into cake balls, not that night at least, so I thumbed through some of my recipes and came across one that was in a Holiday Magazine by Paula Deen.
Gingerbread Cake with Cranberry Filling and an Orange Cream Cheese Frosting was exactly what his co-workers needed, at least I thought so!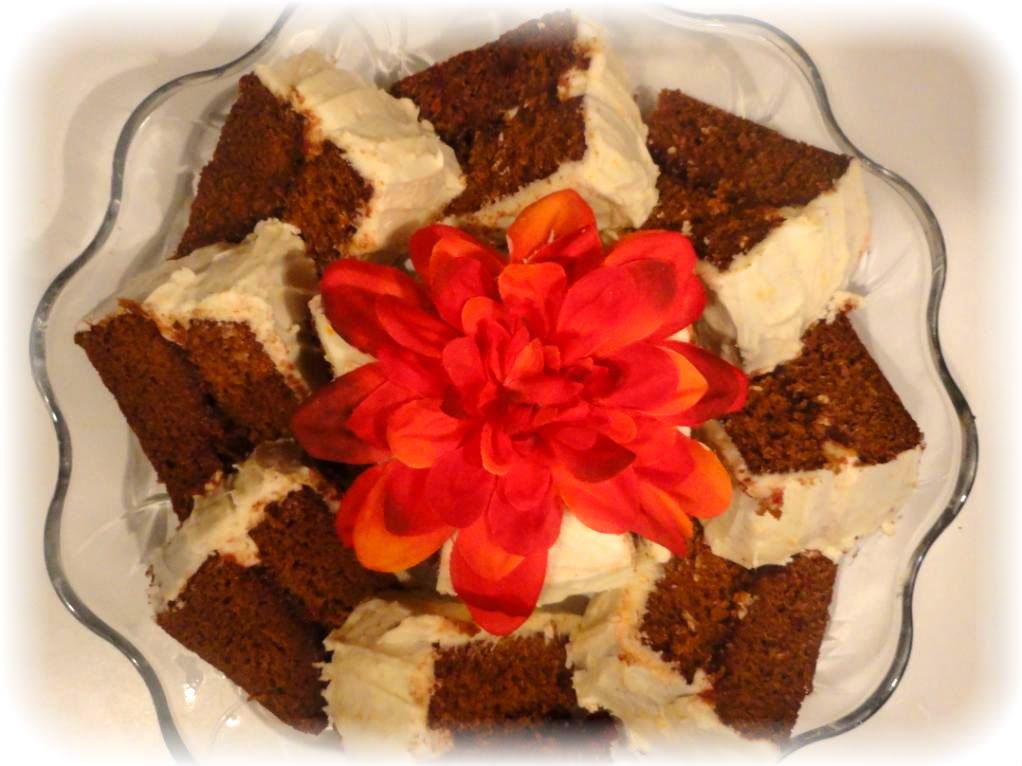 Before I get started with the recipe I want to make a few notes.
Start out by making the filling first as it needs to be refrigerated for at least 2 hours.
When stirring your cranberry filling over medium-low heat, it states to heat for 15 minutes, which for me it only took about 12-13.
The recipe calls to make a three-tiered cake, but personally I always make a two-tiered cake instead of three. (For a few reasons: (1) three tiers is way too much cake for one slice, (2) sometimes one cake doesn't come out of the pan clean enough for my liking, so I always just plan to have a back-up layer (3) by only making two tiers I am able to sample the cake before serving it to guests.
If you plan to slice the cake before serving it, refrigerate it once you frost the cake; this will make the frosting and cake firm enough to have a clean slice.
For the lemon and orange zest, you can usually get 1 teaspoon out of one lemon, and 1 tablespoon out of 1- 1 1/2 oranges.
You can garnish the cake with gingerbread cookies (which I didn't), but I think gingersnaps crumbled on top (or bottom) would also be really yummy.
If you choose to only make a two tiered cake like I do, use the additional layer to make 1/2 a cake. Slice it in half and prepare like you would a whole cake (filling and frosting). This also works well if you want to serve more cake for a larger crowd, pre-slice your cake like I did and you'll have at least 5 more slices.
I thought the cake tasted even better the day after, verses the day of, as the filling was able to sink in to part of the cake, so delicious!
Ok, now on to the recipe:
Gingerbread Cake with Cranberry Filling
Makes 1 (9-inch) cake)
CAKE:
1 cup vegetable oil
1 cup sugar
1 cup unsulfured molasses
3 large eggs
3 1/2 cups all-purpose flour
2 teaspoons ground ginger
2 teaspoons ground cinnamon
2 teaspoons baking soda
1 teaspoon lemon zest
1/2 teaspoon salt
1/8 teaspoon ground cloves
1 1/4 cups whole buttermilk

CRANBERRY FILLING:
(Makes about 1 cup)
16 ounce can whole berry cranberry sauce
1 tablespoon orange zest
2 tablespoons fresh orange juice

ORANGE CREAM CHEESE FROSTING:
(Makes about 3 cups)
8 ounces cream cheese -- softened
1/2 cup butter -- softened
1 tablespoon orange zest
4 1/2 cups confectioner's sugar

GARNISH: Gingerbread cookies

CAKE -
Preheat oven to 350 degrees. Spray 3 (9-inch) cake pans with non-stick cooking spray with flour.

In a large bowl, combine oil, sugar, molasses, and eggs. Beat at medium speed with an electric mixer until well combined.

In a medium bowl, combine flour, ginger, cinnamon, baking soda, lemon zest, salt, and cloves. Gradually add to oil mixture, alternately with buttermilk, beginning and ending with flour mixture. Pour evenly into prepared pans, and bake for 20 minutes, or until a wooden pick inserted in center comes out clean. Let cool in pans for 10 minutes. Remove from pans, and cook completely on wire racks. Spread Cranberry Filling evenly between layers. Spread Orange Cream Cheese Frosting on top and sides of cake. Garnish with gingerbread cookies, if desired. Note: Pepperidge Farm and Archway make gingerbread cookies.

Cranberry Filling -
In a medium saucepan, combine cranberry sauce, orange zest, and orange juice. Cook over medium-low heat for 15 minutes, or until thickened. Cover and chill for 2 hours. Makes about 1 cup.

Orange Cream Cheese Frosting -
In a large bowl, beat cream cheese, butter, and orange zest at medium speed with an electric mixer until creamy. Gradually beat in confectioner's sugar until smooth. Makes about 3 cups.

Source:
"Paula Deen's Holiday Baking 2008"
I am definitely going to be adding this to my favorites recipes and cannot wait to bake it again!