Last week, the kids and I spent some time in Sunny Southern California, hitching a ride with my mom, while waiting for my hubby to drive out the following weekend to join us.
We had such a blast spending time with our friends and family, but the cherry on top was getting to visit all of my favorite spots, plus enjoying some homemade goodies too!
Now, I will be posting most of everything
we
I consumed over the week, with the exception of a few meals I made myself (including peanut butter & jellys, mac & cheese, carnation instant breakfasts, etc) and some homemade goodness from my sister-in-law, so PLEASE - DO NOT START ADDING UP THE CALORIES. Yes, I know, I ate like I was a pregnant lady ready to pop,
but hey! I was on vacation!
To start our trip, we of course had to stop by my parents ice cream parlor (and restaurant)
Chaparral Homemade Ice Cream
. With pretty much every meal they serve up my mom's secret recipe cheese ball, so my dad created what he calls the Wicken-bagel (because their town name is Wickenburg). They pick up some fresh bagels, toast them in their huge pizza oven and spread the cheese ball all over the center...sooo yummy...
From there we headed into Southern California, where my mom's long time friend picked us up our favorite mexican food from
Juanita's
. If you've ever eaten there you know what I'm talking about! My mom has been going there since she was in highschool, and carried on the tradition with me. What I find most entertaining is, the location of Juanita's is in a very...
very
.....not so great part of town, and if it were any other place other than Juanita's I'm sure my dad would have given me some long lecture of why I should NOT BE GOING THERE, but yet, for some reason, when we said, "Oh we're going to Juanita's", everything seemed A-O-K.
On Saturday, I met one of my favorite friends at
Woodranch
. I am completely bummed out that we do not have any of these in Arizona, but at the same time, it's probably a good thing. If you've eaten at Woodranch, then you know how amazing their butter rolls are that they bring to your table. At one point, our waitress brought us out a fresh steaming basket, because our full basket had cooled...A-MAZ-ZING! I'm thinking I should email them and suggest heading out to the Grand Canyon State!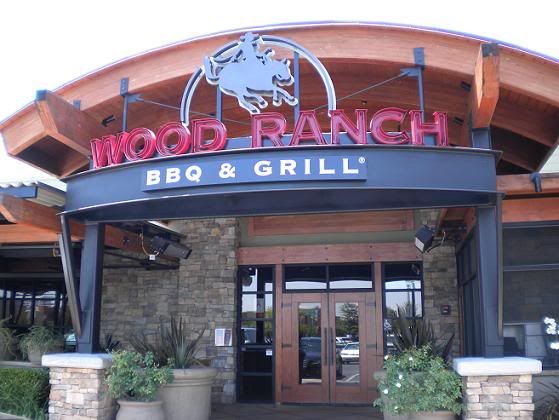 After enjoying our Sundayg in 77 degree weather down in San Diego (which is quite a change from the consistent 108 degree's in Phoenix), my aunt and uncle dished up quite a delicious bbq. Charcoal grilled chicken, fresh veggies, corn on the cob, baby potatoes and mouth watering watermelon..YUM. For dessert, she whipped up homemade chocolate pudding, which as you can tell, my daughter
loved
.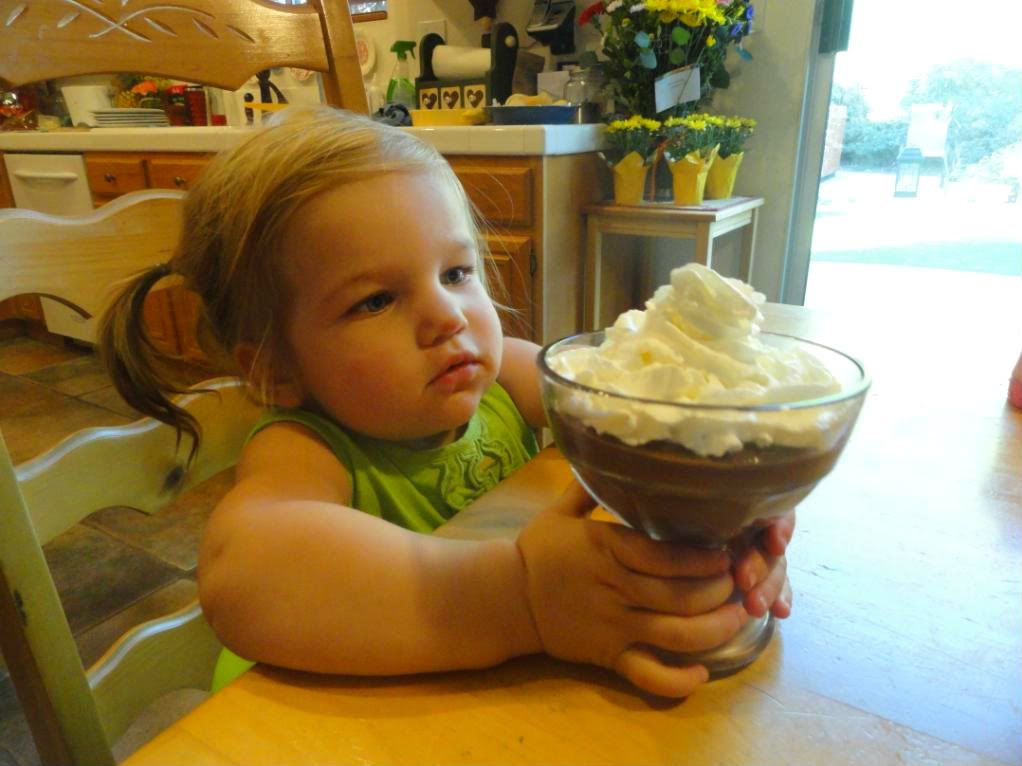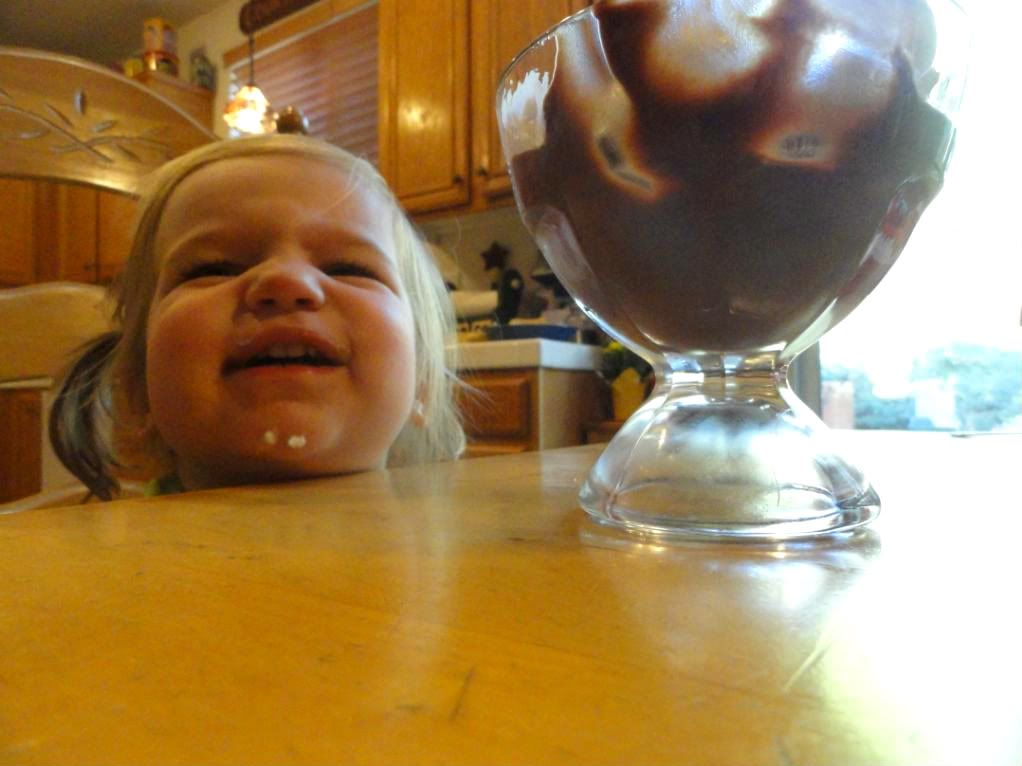 Oh yes, I almost failed to mention, on Saturday, my Aunt (and daughter Aliyah) baked us a Buttermilk Pound Cake with Custard Sauce....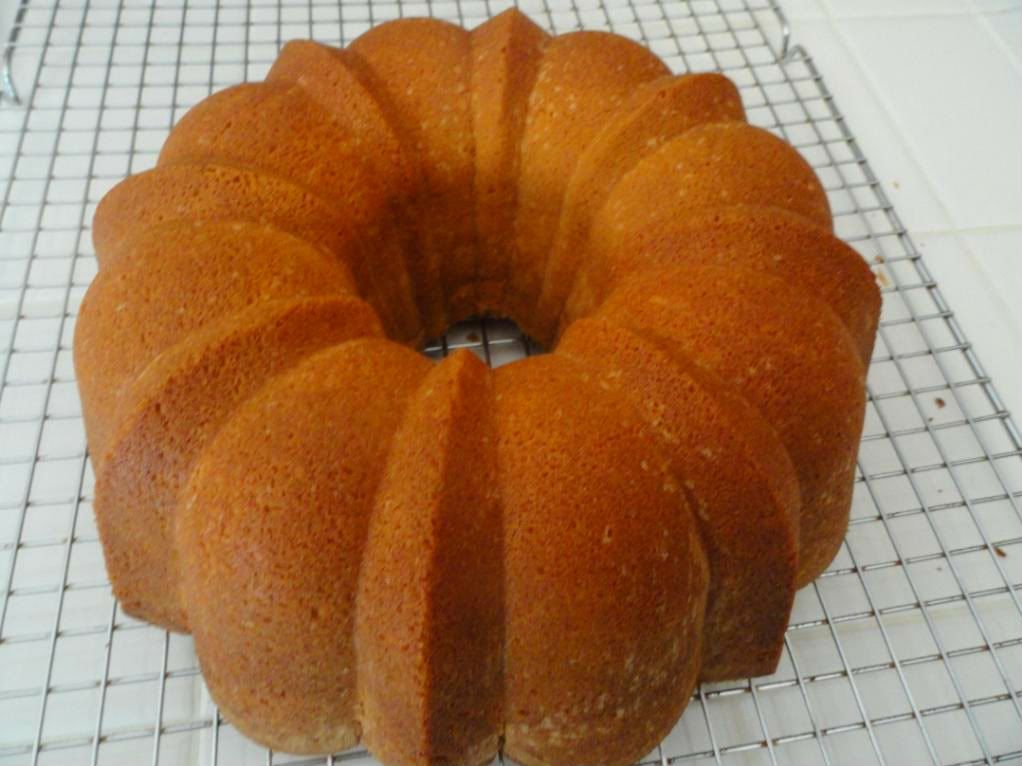 Now, if you know me well, you know my love for donuts. GOOD DONUTS. Growing up in So. Cal, we would have donuts all the time. Heck, I remember driving past three donut shops, just to go to my favorite one (Manna's Donuts), which later ended up having another donut shop right in the same parking lot. We'd get them for sports games, take them to work, or even drop by before church. When I moved to Arizona with my husband, we shared the same passion for donuts, and were very disappointed to realize that Arizona really does not have ANY GREAT DONUTS. I mean seriously...Dunkin Donuts? No-Thank-You. After searching for over 4 years now, we have come across a few shops here and there that are managable, but still nothing like California, oh and I forgot to mention -- we have to drive at least 15-20 miles, just to come close to one of these mom and pop shops! Outrageous right???!!
Well, after my third morning at my Aunts, my Uncle finally came down the stairs saying, "No donuts this trip Jackie?" I replied with the fact that I was trying to hold out until Jeff (my husband) came that following weekend so we could go together. He then followed up with................what I used as an excuse to HAVE TO GO.....by him saying "Oh man, I can't remember the last time I had a donut.....probably the last time you were here." Seriously -- how could I let the guy down? We headed into downtown Murrieta and treated ourselves to one of the best donut shops I've ever had...probably even better than my childhood favorite Manna Donuts in Chino.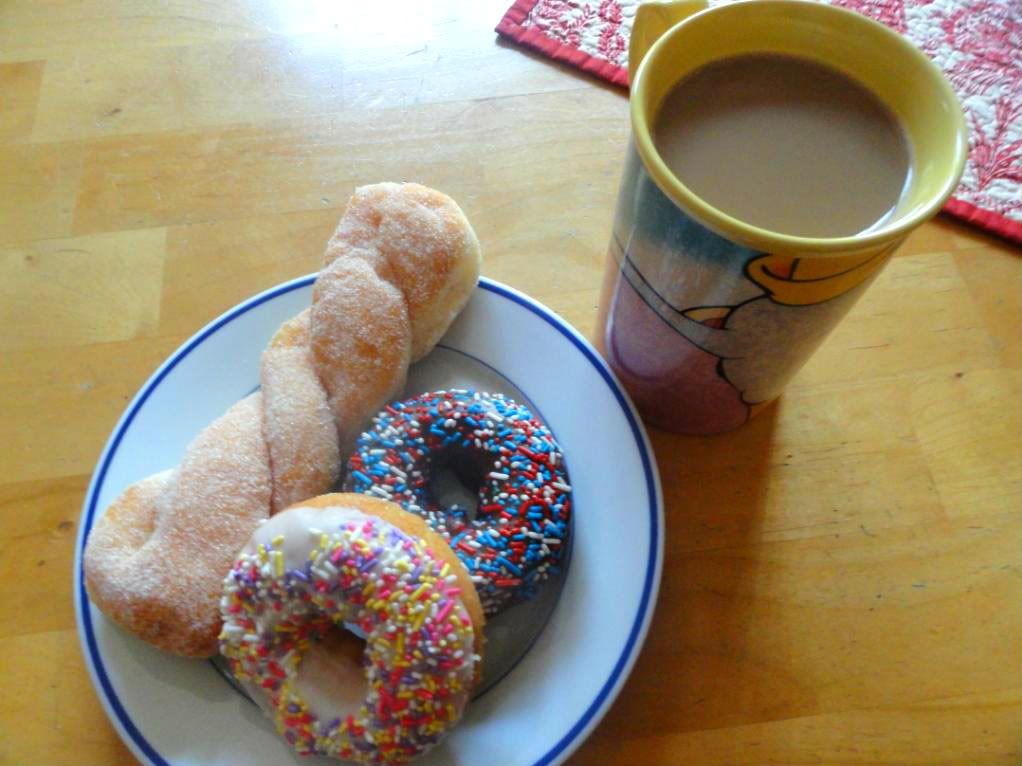 Our trip at my aunts concluded with Homemade Alfredo Sauce over angel hair pasta and a penne dish with tomato sauce and fresh mozzarella. I love pasta!!
As we waited Tuesday afternoon for my mother-in-law to take us on to the next portion of our vacation, I sunk my teeth into some fresh homemade bread, buttered and smothered in honey. I even snuck in a few extra pieces while the kids where taking their naps.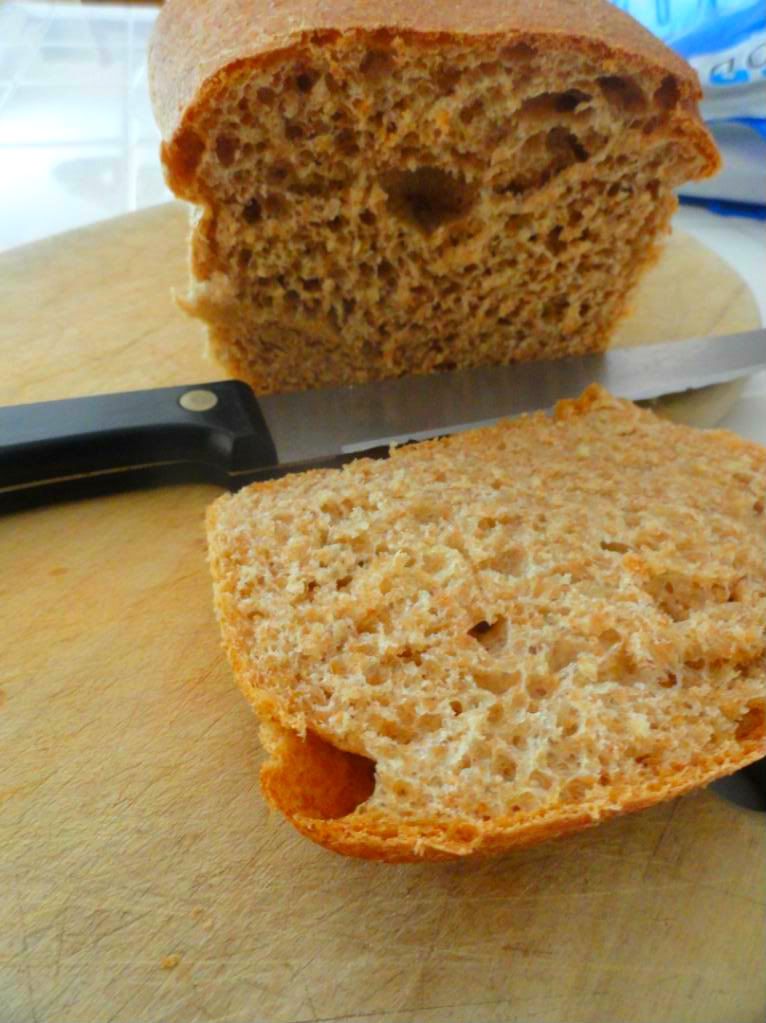 While spending some time at my sister and brother's home, one of their favorite fast food spots is
Bakers
. I remember loving their bean and cheese burritos, but hadn't eaten there in probably over 10 years. Of course we had to pick up a bite and it was just as yummy as I remember it being.....
My sisters and I picked up one of my favorite spots in Chino for dinner Wednesday which was at the
Riverside Grill
. If you've never been there before it's easy to miss as the entire patio is covered in trees and vines.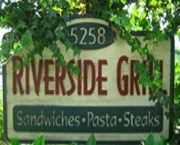 On Friday my husband finally arrived and we drove down to Huntington Beach to take the kids to the ocean for the first time. As a child, my husband and his family (along with many other friends and family) would go to the beach ever Wednesday. He remembered getting strips and cheese from
Jacks
right on the board walk. As we sat there together as a family, he reminisced of all the fond memories he has from going to the beach. He laughed a bit to himself, remembering how much trouble they would get in if they ordered a soda. Strips and Cheese were all they were allowed, since they brought their own drinks.....but he mumbles to me, "But sometimes all I wanted was a Dr. Pepper, and mom didn't bring that all the time." So funny.
I remember ordering Strips and Cheese for the first time and being shocked that the cheese wasn't melted over top the thin crispy tortilla chips; but after taking that first crunch I was hooked!
We also walked down to the end of the pier to enjoy one of
Ruby's
rich chocolate milkshakes....
Friday evening, after our fun filled beach day we headed over to my old stomping grounds,
JoJo's Pizza Kitchen
. I worked there as a waitress throughout college and then moved in to their office area as Marketing Director before moving out to AZ. I absolutely loved working their as a waitress, so many fond memories, but most of all I think I miss my tips and "regulars" (the ones that would request my section). We chowed down on some delicious pizza, while my husband's Grandma said that they served her the best lasagna she has ever had in her life. For *dessert* we ordered their apple pie pizza (apple pie filling covered in mozzarella cheese all served on a homemade pizza crust) and took it home to enjoy ala mode!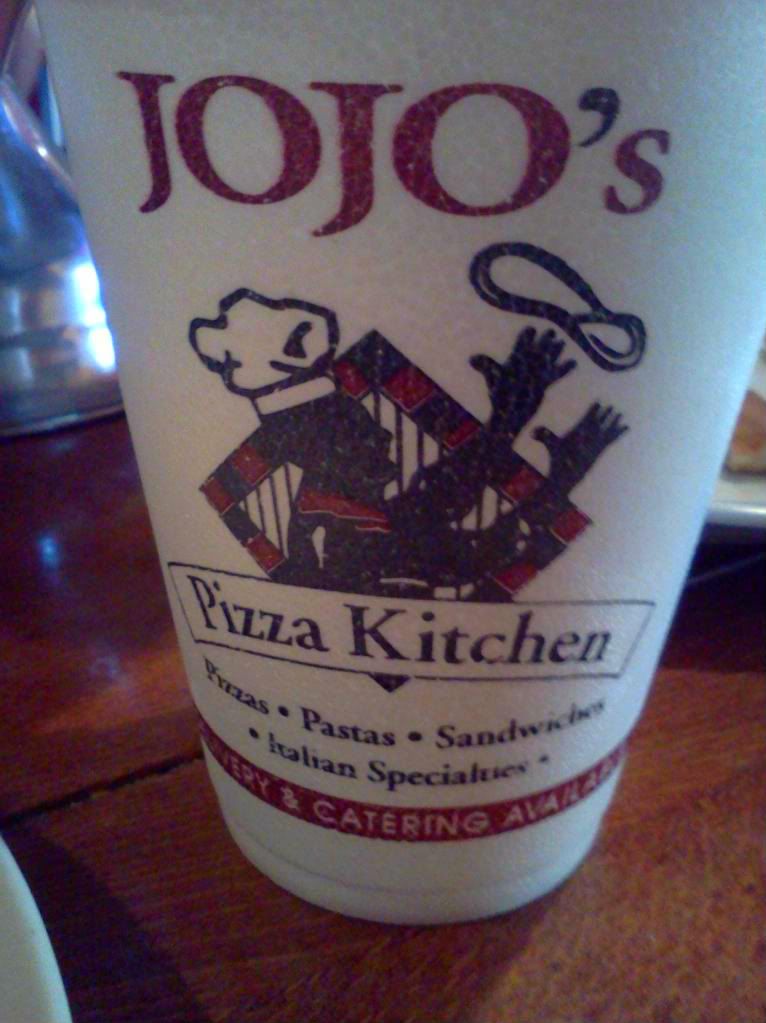 You're probably wondering how much longer I can go on with my food post today right? .....Oh I can go on...and I will :)
Saturday morning as my husband drove me and the kids on our way to another donut shop we passed by a hamburger joint I don't think I've ever been too. He nearly slammed on the breaks saying "THAT PLACE HAS AMAZING BREAKFAST BURRITOS!"
Of course I couldn't pass something like that up
! He was right; they were so delicious. I'm actually craving it already for the next time we go to CA.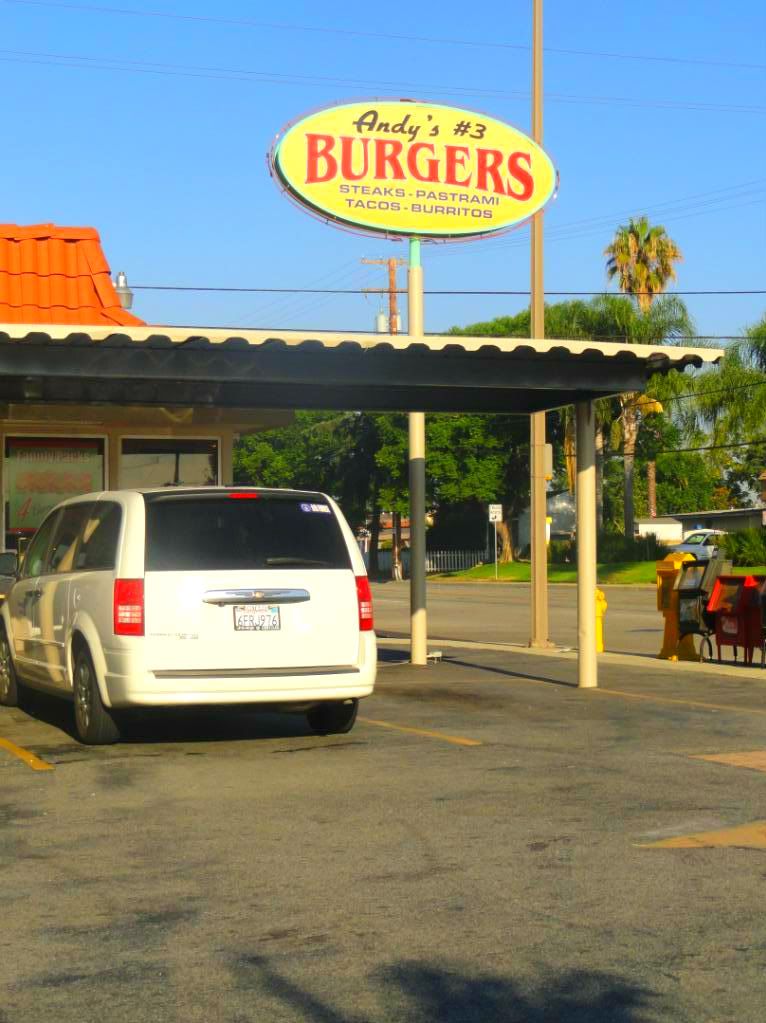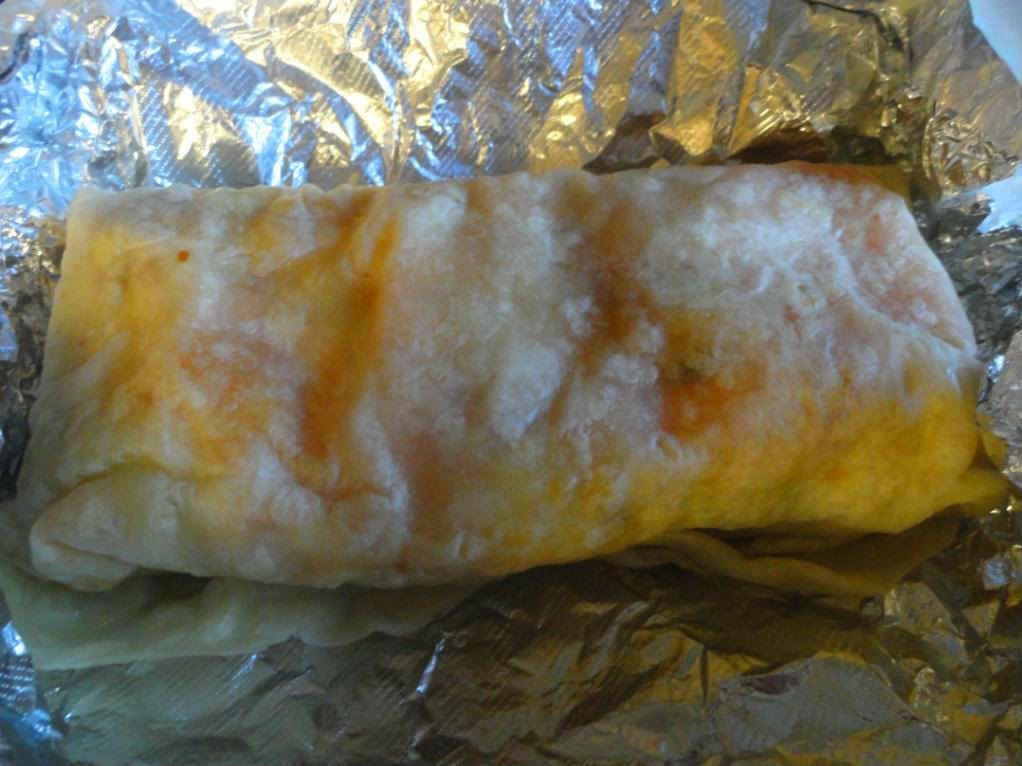 After our big breakfast my bestest friend treated me to *lunch* at the
Avocado House
. Another spot that I had never been too, but have been dying to try. My aunt actually knows the owner and everyone that I've talked to has had such great experience there. The restaurant was really neat, as it is an old house converted into restaurant. You order at the counter as you see all of the busy employees in the kitchen rushing breakfast out to everyone. I knew I wanted a cinnamon roll as she makes them homemade, but I did not see any on her dessert table. I was getting a bit bummed, so was trying to come up with a back-up plan if she didn't have any left.
"Mmmm....Butterscotch loaf cake....Yes I'll get that"
The man in front of me must have been listening in on my thoughts because the moment I decided on Plan B, he snatched up my mini loaf cake....so disappointed. There were several Vanilla Cranberry loaf cakes and what looked to be delicious brownies on the table too, but to my pleasant surprise as we approached the counter, a fresh batch of cinnamon rolls were pulled from the oven.....Mmmmm.
And finally, the wedding we attended had the cutest cupcakes at our tables displayed beautifully. Flavors included Carrot Cake, Vanilla with Raspberry Lemon frosting and my personal favorite: Chocolate with banana and peanut butter frosting....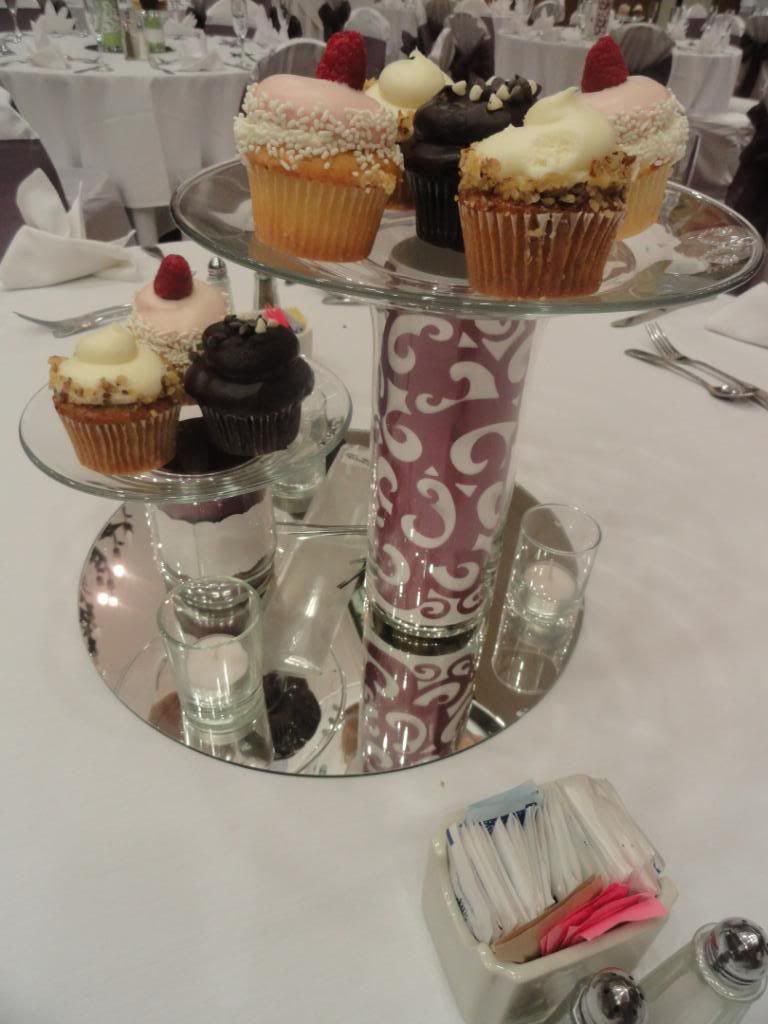 Although it may seem that my trip was all revolved around food, we did get to spend so much wonderful time with friends and family. We were able to be a part of one of my close family and friends special day uniting as husband and wife...and the cherry on top was enjoying delicious bites of my favorite places; many of them childhood favorites and a few unexpected additions to my list.
Can't wait for our next trip..........to see everyone of course!