Before I had children, I always knew that someday I would have a little girl and would host the most beautiful tea parties for her and her friends. I envisioned little spring time hats, fluffy dresses, tea sandwiches, and little pinkies sticking high as everyone sipped their tea.
Yes, I dreamed about things like this.
God blessed me with my beautiful little girl (
and boy too--so we'll have to come up with something for him
) and just so happened to place her birthday two days before Christmas. Perfect right? Perfect for a half birthday in June of course! And what better way to celebrate than with a TEA PARTY!
We have now celebrated two of my daughter's half birthday tea parties and have had so much fun doing so. The first year, she was only 6 months old and we found a little tea shop in our area. It was nice, but being that it was June in Arizona, a bit hot to walk around all the cute shops downtown.
This year, a few months before my daughters party, my grandma sent me this book...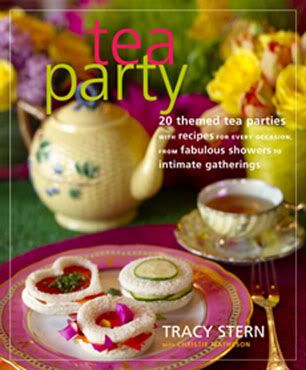 I fell in love instantly and could not wait for June to come to start making some of the recipes.
Tracy Stern's, Tea Party
, book is filled with so many tea party ideas and recipes; it is the perfect gift!
Although the day of my daughter's party I felt a little under the weather, (
ok, a lot under the weather
), everything came out wonderful! I purchased little spring time hats that we all decorated and now my daughter plays dress up with them all of the time! I am so anxious for next year's party...here are a few of our pictures: